Read the Alto-Hartley Home Chef's Guide to Shopping in a Restaurant Supply Store.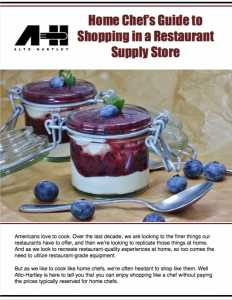 Americans love to cook. And as we look to recreate restaurant-quality experiences at home, so too comes the
need to utilize restaurant-grade equipment.
Alto-Hartley is here to tell you, you can enjoy shopping like a restaurant chef, without paying the prices typically reserved for home chefs.
If you're looking to to start shopping like a restaurant chef for your Washington, D.C., Maryland, or Virginia home kitchen, read our guide and:
See why you should consider a restaurant supply store for home kitchen supplies 
Discover 4 things you might not know about a restaurant supply store
Learn how to get a discount on your purchase from Alto-Hartley
Read the Home Chef's Guide to Shopping in a Restaurant Supply Store: