How K-12 Schools Are Adapting to COVID-19
It's no secret that COVID-19 has changed a lot about the way we interact and handle our food. From taking social distancing measures to many schools requiring eLearning or virtual learning for an extended period of time — the typical cafeteria dining scene has an entirely new setup for many school facilities.
Finding a balance between keeping school meals safe yet engaging can seem a little tricky at first. Whether your facility is choosing to stagger lunches, deliver them to students, or taking advantage of warmer days and allowing a little outdoor playground eating, it's time to break down the ways schools are adapting to the pandemic.
STAGGERED MEALTIMES
In the early months of 2021 various schools are returning to in-person schedules and utilizing staggered bells and breaks to help offset the potential spread of the virus. By spacing out lunches and the time to move from one class to the next, there's been a noticeable decrease in crowded hallways and large gatherings on school campuses.
A simple perk of staggering lunch periods is that the cafeteria never becomes overcrowded, which makes the 'lunch hour' more manageable for faculty. With no lingering lines and quickly moving service, this has been a progressive route to ensure everyone gets to eat while taking precautions.
THE IMPORTANCE OF HEATED CABINETS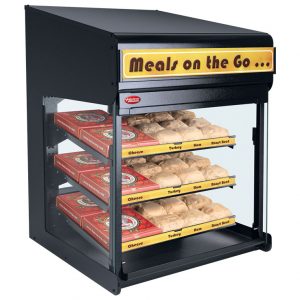 One of the most resourceful solutions in the foodservice industry right now is heated merchandisers. Not only does this ensure that the quality of food doesn't decrease, but it helps maintain that ready to eat temperature for moments when breakfast or lunch schedules are staggered. In a school setting, this allows students and faculty to still get in a healthy meal without creating a clustered line or crowded area. Hot holding merchandisers help control moisture, are tightly insulated, and Hatco's new FLAV-R-SAVOR even has an air curtain door that allows you to check on already prepped meals without opening the door.
Some of the benefits of the new FLAV-R-SAVOR include:
Designed for long-term food holding.
Warm air at the front of the cabinet is forced downward, through the ducts above the opening, forming a "curtain" of heated air, a portion of which is drawn toward the rear of the cabinet, warming each pan.
Holding temperatures range from 70°F-175°F (21°C-79°C).
LED lighting on the top front and sides creates balanced lighting to showcase food products.
Features adjustable slanted or horizontal shelves with removable sign holders, easy-to-use digital controls, as well as removable glass sides and crumb tray for easy cleaning.
HOW TO KEEP MOVING FORWARD WITH MINIMAL ADJUSTMENTS
As we continue to pursue new opportunities that make it easier to adapt during times of uncertainty, it's important that we seek out solutions that keep the well-being of everyone in mind. Another beneficial serving method that many schools have found success with is taking advantage of the grab-and-go or pre-packaged trend.
With order hot stations or designated food pick-up cabinets, you can limit cross-contamination or multi-touch areas with your foodservice. Not only does this help keep small lines moving, but it offers students a transparent way to select what they'd like to eat quickly and efficiently.
NOTES TO REMEMBER
The truth is that no one method of serving food is going to be the correct solution for every single school nationwide. How you choose to implement precautions and make necessary changes to your school's foodservice is entirely a case by case need. A few things to keep in mind and remember as you make these difficult decisions are as follows:
Heating holding cabinets can help keep food safe, warm, and ready to go.
Grab-and-go solutions can decrease wait time.
Staggering lunch periods may help limit large gatherings
Not every change to serving meals has to be a large change, some are simple—yet effective
We hope that you, your students, local families, and faculty continue to stay safe during these times. The Alto Hartley team is constantly finding new solutions that help optimize kitchen and serving processes while assisting in offsetting the spread of bacteria and viral scares. We look forward to assisting you in making 2021 the best school year yet.
To help you re-open with safety in mind, we'd like to extend this 10% off coupon. Simply mention it in store to apply to your purchase.