What to Look for in a Cold Beverage Dispenser
There's nothing like a cold beverage on a hot day. Heck, there's nothing like a cold beverage period. So when it comes down to getting cold beverages into the glass, it's important that delivery is quick, efficient, and consistent.
What's the direct impact? Profits. Beverages are some of the most popular, revenue-generating items in foodservice. Operators just have to find the best ways to get them to the customer.
Whether it's a diner serving iced tea or a corporate dining facility serving a premixed juice, there are a few important things to consider when looking for a cold beverage dispenser.
HOW IS THE BEVERAGE MIXED?
One of the best options for dispensing cold drinks is the classic bubbler. Bubblers essentially push liquids to the top of the holding tank so they appear to bubble up from the bottom. This serves a handful of purposes. First, bubblers are fun to look at, and they attract attention. Second, the bubbling action mixes the drink around to prevent any sediment from piling up on the bottom of the tank. Bubblers are great for premixed type beverages that are made from powders or syrups.
WHAT DOES THE UNIT LOOK LIKE?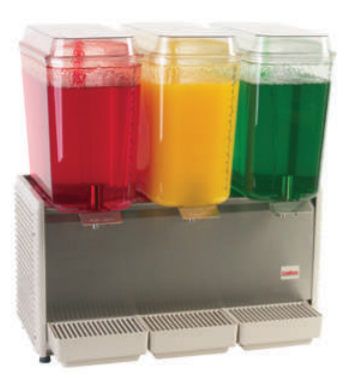 There are a few reasons why the dispenser itself makes a difference. As we just talked about, the visual appeal of bubbling can draw attention and attract new customers. Another important consideration is volume. How many people do you plan to serve? How quickly do you plan to replenish the beverage supply? And how many cups do you want to serve within a given period of time. These questions will all lead to a variety of different bubbler sizes.
Finally, how is the unit made? Take cold beverage dispensers from Grindmaster Cecilware, for example. Their line ranges from classic bubblers to Crathco G-Cool Series that are more advanced, keep liquids agitated without adding foam (think coffee and tea), and even come with a choice of side graphics for enhanced, point-of-purchase merchandising.
The right choice is out there. Discover what's available for your foodservice operation by browsing our online showroom.