Bringing The Bar To The Guest
As the world opens back up in the wake of the pandemic, you may find that some of your customers are hesitant to come inside or spend time in a packed bar. This makes it essential that you take advantage of your outdoor space. You can attract more customers when you open up an inviting outdoor area to serve them. 
Create The Ideal Outdoor Area
Your outdoor area needs to be warm and inviting. It isn't a good idea to set out some hard wooden furniture that you have in the stockroom. Comfortable and attractive furnishings make it easier to attract customers.
In the summer months, you need a way to keep the area cooler. If your outdoor area has a roof, you might consider installing ceiling fans. For the colder months and evenings, you can bring in stand-alone heaters.
You want to offer all the same menu and bar items to outside customers as you do to inside clients. If you're looking to market your outdoor area, you might consider offering a few special food or bar items to outdoor customers.
Benefits of an Outdoor Area
Before you start buying furniture and hiring new staff to take care of outdoor customers, you want to know that there are benefits for your business. These include:
Appeals to more customers: You can appeal to the customer base that's still wary of eating out by offering an outdoor option.
Improved sales: With additional seating capacity, your bar or restaurant can make more sales.
Utilizes all of your available space: Your outdoor area is included in your rent, and if you don't use it, it's wasted money.
In order to receive the most benefits from your outdoor space, you might need to acquire some specialized equipment to serve these customers more quickly and make the area more appealing.
New Equipment to Service Outdoor Area
With your new outdoor area, you need to add some new equipment to ensure that your guests receive the same great service and quality indoors and outdoors. Fortunately, there are some great options to make this happen. Here are a few items to consider:
Cambro Small Portable Bar Cart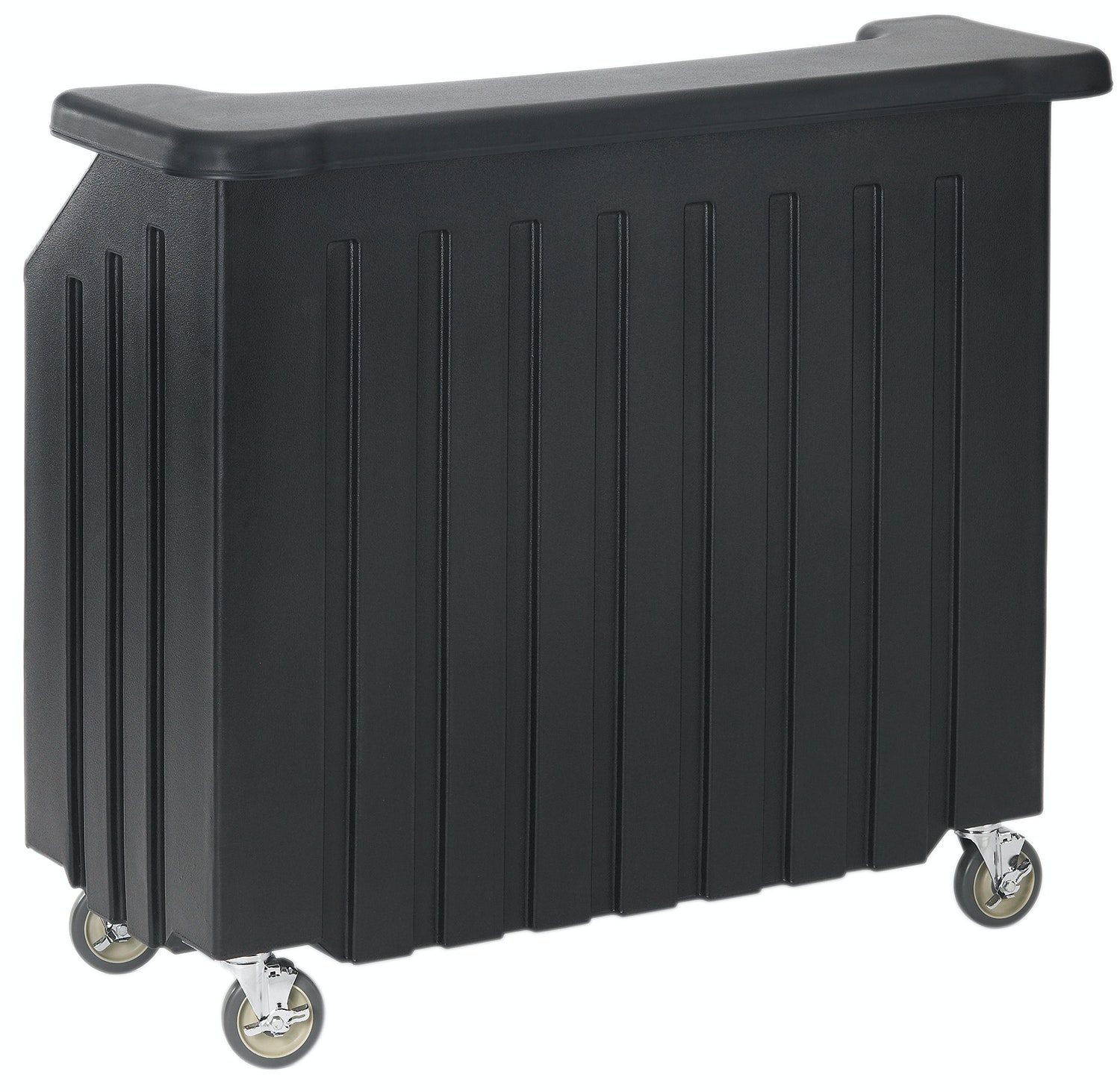 Why make your outdoor customers wait for bar service from inside when you can bring the bar to them? This portable bar cart has four caster wheels to move it easily into any space. It offers extensive storage for bottles, glasses, and ice.
Lakeside Party Pleaser Portable Bar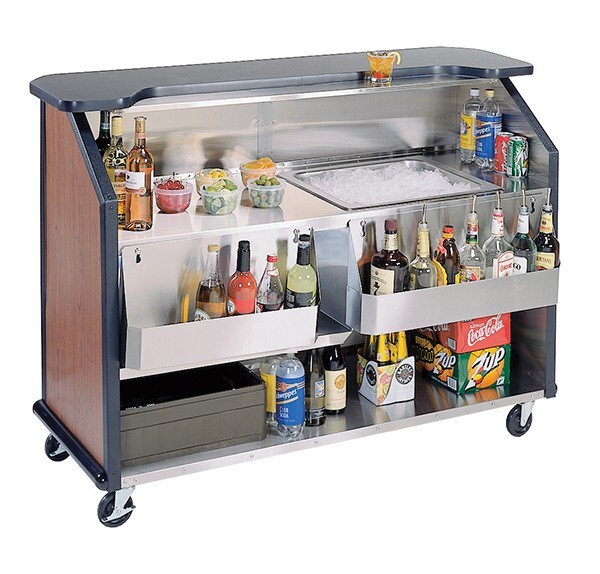 The Party Pleaser Portable Bar has all the storage you need along with an ice bin that holds up to 40 pounds of ice to serve many drinks before needing a refill. It also has two speed rails for guests who want to approach the bar area.
Carlisle Maximizer Portable Bar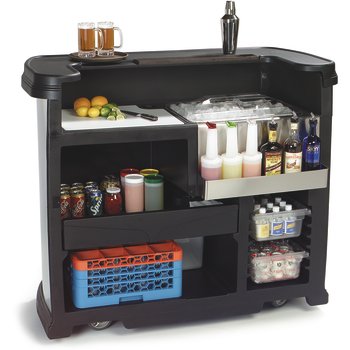 With its sleek design and smart construction, the Carlisle Maximizer Portable Bar includes a built-in cutting board to meet even your smallest needs. The ice bin has an integrated drain and water trap to maximize its efficiency.
Eagle Group Deluxe Portable Bar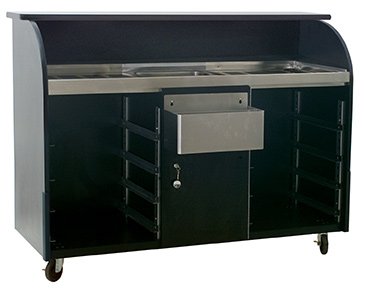 Featuring sleek good looks and all the perks, the Deluxe Portable Bar helps your bartender whip up drinks in minutes. It includes glides for glass racks, locking storage, and openings to place two soda guns.
Forbes Industries Luxe Mobile Bar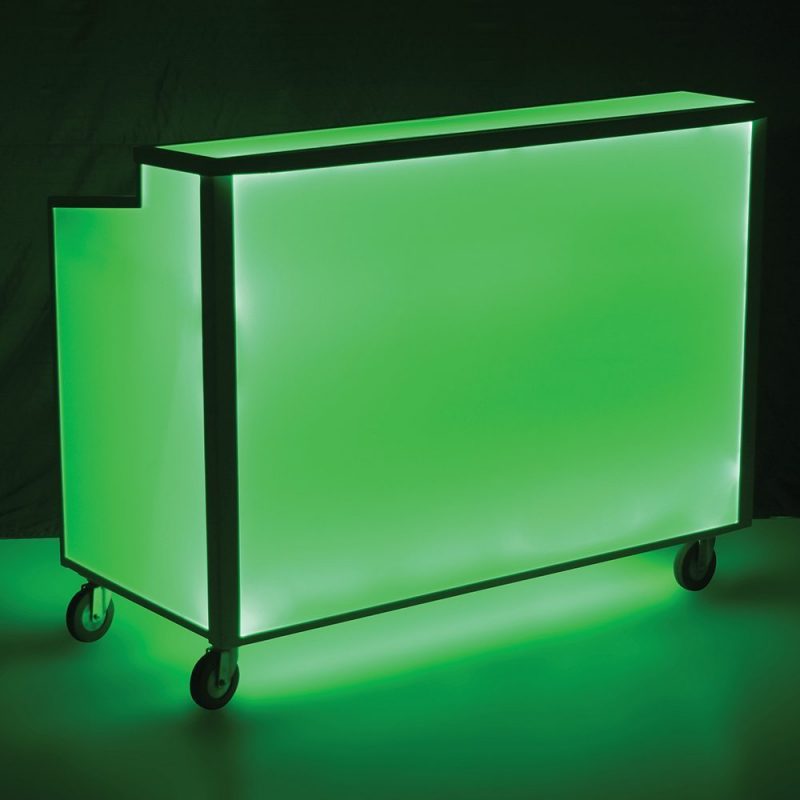 Make a statement with this mobile bar that includes LED-lighted white acrylic panels that come in a variety of colors. All the working surface panels are made from cutting board material to cut up garnish quickly.
You don't have a problem with customers afraid to come inside; you have an opportunity to create a stunning outdoor space and increase your business. The addition of a portable bar can make it easier to fill orders and impress customers.
If you're wanting to bring your bar into the front of house, we'd like to extend this 10% off coupon. Click the photo below to claim the discount.