Five Pieces of Equipment Every Home Kitchen Needs for Fall
The smell of pumpkin pie, hearty roasted chicken, and nutmeg spices are in the air! The Fall season is the perfect time to update your kitchen with the best equipment for serving up dinner and desserts for large crowds. To help you with your party and holiday preparations, we've put together a list of the five essential tools that you should consider for your home kitchen this Fall.
Roasting Pan
A good roasting pan is an essential piece of equipment for roasting meat and other ingredients in your oven. Do you plan to prepare a big turkey for Thanksgiving or perhaps roasted potatoes and vegetables for a large party? Before you decide on which pan to purchase, you'll want to consider how you'll cook with it so that you know which specific features are most important. Heavy-duty construction is key to braising meats, making delicious gravy and pan sauces, and baking large batches of lasagne, shepherd's pie, and more.
Here are a few tips when considering purchasing a roasting pan: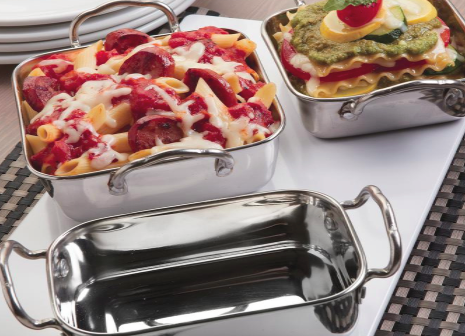 The heavier the pan, the better to ensure even heat distribution.
Avoid nonstick roasting pans as you need a surface that encourages the juices to adhere and develop deep flavors.
Consider the side height and shape of the pan for how you plan to use it the most.
For inspiration, try one of these 16 easy roasting recipes using your roasting pan.
Food Processor
Food processors are a no-brainer for cooking up fall-time recipes. They are used to blend, chop, slice, and dice up the ingredients you need for your meal. Consider this: A food processor can help you with both the preparation of food, as well as adding texture to your food.
Consider making homemade nut butter or whipping up curry paste to add on top of your favorite meat dish. Food processors can also help speed up your preparation time by chopping nuts, grinding meat, or chopping up perfectly textured veggies to add on top of salads or other dishes.
Explore these amazing food processor recipes here.
Pie Plate
The fall season isn't quite complete without a warm, tasty pie sitting on the dinner table to wrap up a hearty meal. Whether you're serving up grandma's best pie recipe or trying a new pie for the first time, you'll need to ensure you have a good sturdy pie plate that you can continue using throughout the years.
Pie plates come in several different sizes, usually ranging from 8-11 inches in diameter, and can be used to bake single-crust and double-crust pies. It's important to ensure you have a durable pie plate that will help you serve up those amazing Fall-time favorites such as pumpkin pie or chess pie every year! Check out these mouth-watering pie recipes here.
Sheet Pans
Many people often wonder what the difference is between a cookie sheet and a baking sheet. They are both rectangular, metal pans, but baking sheets typically have four raised edges that can be used for other purposes besides just baking cookies. Cookie sheets usually have a lower edge so that cookies can slide off easily once they're ready and cooled. Both cookie and sheet pans are available with a non-stick surface as well.
There are all kinds of wonderful sheet pan dinner recipes, as well as some of the most scrumptious dessert recipes.
Are your baking sheets looking a little warped or bent? At Alto-Hartley, we've got you covered with all of the best baking sheets you need for baking this Fall.
Cast Iron Skillet
Having a good cast iron skillet in the cupboard at home is a must for many people who love to cook at home. In fact, if a cast iron skillet is well taken care of, that pan can often be passed on through generations.
When you're searching for a new cast iron skillet, it's important to consider these tips: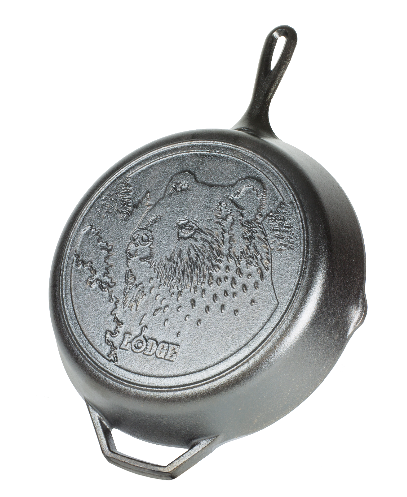 Look at the bottom of the pan. Real cast iron pans are usually marked with the logos of their manufacturers and likely have a stock number or city name listed on there.
Pick up your skillet to feel it's weight. Is it heavy? If you have a lightweight pan, it's likely not real cast iron.
Real cast iron pans have handles that are part of the original iron mold. If the pan has a handle attached by screws, it's not real cast iron.
Examine the surface inside of the pan. Real cast iron has either an imperfect surface that's dark silver, dull and slightly rough or a layer of slick, black seasoning. If the surface has a shiny, silver Teflon-like or non-stick coating, it isn't cast iron.
Try some of these savory cast iron skillet recipes this Fall in your home kitchen.
Ready to prepare a memorable meal this Fall that your family and friends will be raving about? Time to hurry on over to the Alto-Hartley showroom to pick up any kitchen supplies you may need to make the perfect Fall recipes! Don't have time to stop in? Shop online with us!