Fresh Squeezed Orange Juice with Zummo
In the past few years, brunch has enjoyed a resurgence in popularity. This is in no small part due to its popularity among millennials who enjoy the chance to spend time with friends and enjoying a leisurely meal after sleeping in late. Plus, there's the day drinking. If you're a restaurant owner or managing a Foodservice operation at a university or college, you've become used to seeing young people flocking in to enjoy brunch on the weekends. One of the most popular items on the menu is always a mimosa. Who doesn't love orange juice and champagne?
If you're running a food service at a college, you might specialize in virgin mimosas (or in other words, a glass of orange juice.) Whether your mimosas come unleaded or fully leaded, you want your mimosas to stand out. This starts with fresh-squeezed orange juice. Your customers are savvy enough to tell the difference between fresh-squeezed orange juice and juice that came out of a cardboard carton, but you lack the staff to stand around juicing oranges. The Zummo line of juicers can help. Here's everything you need to know: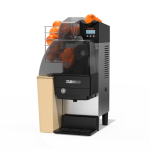 This is the most compact juicer that Zummo makes, so if space is at a premium in your kitchen, this might be the model for you. It comes in your choice of four colors to coordinate with your other kitchen items.
This juicer processes more than six pieces of fruit per minute, depending on the size of the fruit, and the holding bin can hold over two gallons of juice until you're ready to serve it.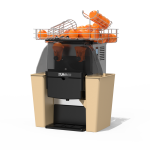 Available in five different colors, this juicer works with a large variety of citrus fruits, including pomegranates. You can feed through up to 10 pieces of fruit per minute, and its holding bin can hold almost six gallons of juice at a time.
If you have rushes at your food service business, this machine can help you provide fresh orange juice for your mimosas without any trouble. The feeder basket can hold a little over 13 pounds of fruit, so your staff can attend to other duties while it does its magic.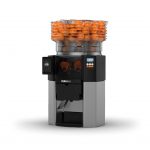 This model comes in four different colors, and you choose from a variety of add-ons to make your job even easier. There's even a gadget that you can attach to allow your customers to pour their own fresh orange juice.
The basket holds up to 20 pounds of fruit at one time, and it can juice up to 16 pieces of fruit a minute. The machine has an automatic filter and a sensor to stop it if there's a blockage of some sort.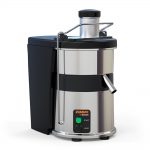 If you're looking for versatility, and you want to make more than fruit juice, then this is your machine. Using yield centrifugal force, the juicer can handle both fruit and vegetables.
The unit has a stainless steel bowl and aluminum body for long-lasting durability, while the padded feet minimize the vibrations. This juicer can create a little over half a gallon of juice each minute to meet the needs of your diners.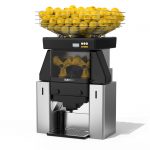 If you run a large foodservice operation, such as a college or university dining commons, this is the machine for you. You place up to 44 pounds of fruit in the basket, and it squeezes around 25 pieces per minute.
With the self-pouring spout, your customers can pour their own glass of fresh-squeezed juice, while your staff tends to other tasks.
Brunch is here to stay, and you're going to need a lot of juice to keep up with demand. Go for the best with a Zummo juicer. At Alto-Hartley, we can help you make a great first impression on your brunch customers and beyond.
If you're wanting to expand your menu to include a great mimosa or fresh orange juice, we're here to help. Simply click the image below to claim your 10% off coupon.