How Hatco is Bringing Foodservice Technology to College and Universities
If you're running a college dining commons or university foodservice operation, you know that a horde of angry Vikings doesn't have anything on a group of hungry college students with the late-night munchies. This tech-savvy generation and the COVID-19 pandemic have completely changed the way that you look at preparing and serving meals and snacks to college students, and foodservice technology as a whole.
Hatco works within the foodservice industry providing solutions to any challenges you face. They use the latest technology to help you cater to your younger crowd whether it's breakfast, dinner, or midnight snack run. One piece of equipment that's a must for your university foodservice setup is one of their heated locker systems.
Limit Contact
Even without a pandemic, you don't want your workers or customers passing germs back and forth. With a heated locker system, your staff places the food item into it on one side of the locker and the customer pulls it out on the other.
Your staff doesn't need to come into direct contact with your customer base, making it easier to keep your employees healthy. It's also a great selling point to students and their parents who worry about their overall health.
Stock and Go
When a rush hits, you need all the help you can get. There's nothing more intimidating than a large group of college students who need to be fed quickly before going to their next class or finishing up a paper. With the heated locker system, you can stock it and food stays warm inside for up to 45 minutes.
The heated locker keeps food warm at a preset 150ºF, but you can bump that up to as high as 180ºF, depending on your needs. This means that you can safely store food without fear of bacteria, and your customers get a hot meal instead of chips or candy out of a vending machine. Your team saves time and can spend it on other duties.
Sizes and Shapes for Every Need
There are food locker systems in various sizes and shapes. You can have one built into a wall or one to place on a countertop. If you have a booming foodservice business, you might consider a larger food locker that stands on its own and offers space for up to 12 meals at one time. If you only need a few spaces, the counter and built-in models offer three or four spaces.
Of course, if you're running a dining commons, you can put multiple items in each locker. This allows your staff to fill it to capacity and leave it to students to select the items they want.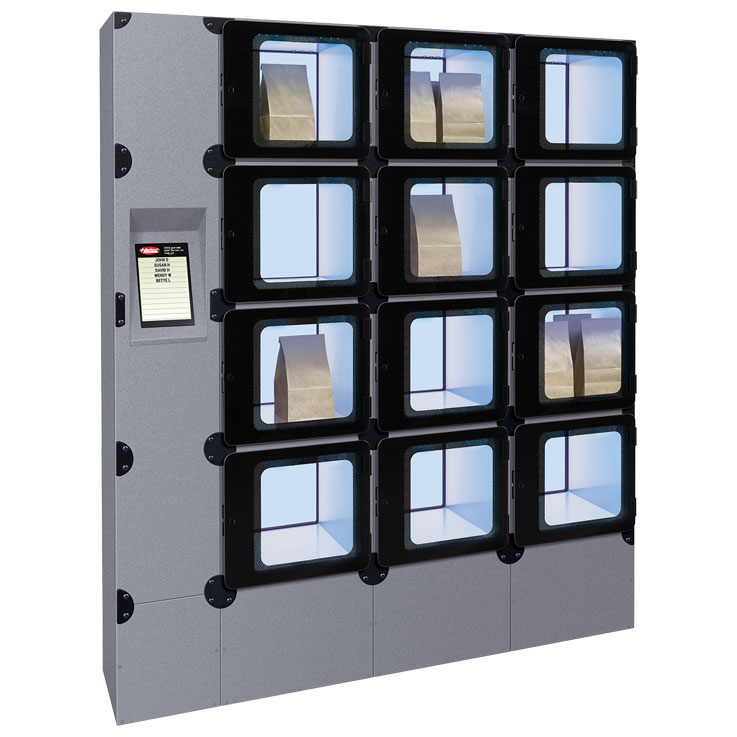 Monitor Inventory and Notify Vendors
Each of the food lockers comes with a POS integrated system that you can use. These systems monitor your stock and can notify you when it becomes low. These food locker systems can also be set up to notify your vendors for reorders as items are taken from the slots.
When you utilize the POS system, you can monitor inventory and plan for future meal prep. The POS system can provide you with other information, such as when items are taken. As you build up a knowledge base of when your customers are taking items, you can plan better for peak times.
Show School Spirit
Most college students are proud of their college or university, so the school colors are important. These food locker systems are available in a variety of primary colors, so you can coordinate with the school's color scheme.
A heated food locker system can provide many benefits to your college or university foodservice business. Contact us today with any questions or to learn more.
To help you re-open with safety in mind, we'd like to extend this 10% off coupon. Simply mention it in store to apply to your purchase.