Three Pieces of Cooking Equipment Every Operation Needs During the Holiday Season
With ovens set to 350º, we are headed into the holiday dinner rush. Families are gathering and seeking time away from their own kitchens to enjoy a prepared meal. And while your commercial kitchen will likely prepare more plates of food during the holiday season, it's important to re-stock on the basics for your kitchen as the busy rush hits.
Let's explore the three pieces of cooking equipment every operation needs during the holiday season.
Oven Mitts
Safety is paramount in the kitchen with the myriad of things to injure oneself on, especially while under pressure.  The cook reaches for an oven mitt and it's not there because of a shortage, so they instead reach for a towel.  
This is a very common cause of kitchen injuries. So much so that hand injuries are the second most frequent injury in the restaurant industry after slips and falls. OSHA estimates that hand injuries cost the foodservice industry around $300 million a year in lost work time and worker's compensation. 
It's important to consider heat tolerance and sizing for the oven mitts you use within your kitchen's operation. From scalding hot sheet pans to dropping potatoes in a fryer, there are many cases where having the right kind of oven mitt is imperative depending on the type of cooking that's being done.
Keep your crew healthy, efficient, and free from burns during the busy holiday season by checking out the variety of oven mitts available for kitchens.
Sheet Pans and Baking Sheets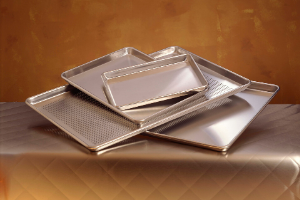 If you own a bakery, diner, or cupcake shop, you know how important high-quality baking pans are to the process. Additionally, if you operate a restaurant and are preparing holiday hams and turkeys, you are going to need proper sheet pans to keep the moistness of the meats at a satisfactory level. 
No matter what kind of cooking or baking you're doing, sheet pans and baking sheets are an essential part of any kitchen. Don't settle for low-grade baking pans during this busy time of the year. Are your sheet pans looking a little warped or bent? Check out the array of sheet pans available to help keep pace with your guests.  Having plenty of these on hand will help with the process of getting food plated quickly while your dishwasher preps the next one.  
Meat Thermometer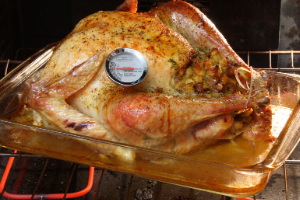 We all know the finger test to guess the doneness of meat. But for the proficient chef and for food safety reasons, thedoneness of meat at the center of a large ham or turkey needs to be measured with accuracy by having the right kind of heavy-duty meat thermometer. 
Explore the various digital, pocket, and classic meat thermometers that are all quality-built with large windows for easy reading. The 5" probes and sturdy construction of a meat thermometer is an essential tool to aid chefs in determining the internal temperature of the meat.  
The holiday season is a busy time for foodservice operations. Be sure you have the latest equipment to keep your staff operational during the holiday season. Time to hurry on over to the Alto-Hartley showroom to pick up those last-minute kitchen supplies you may need!