5 Proven Tips to Baking the Perfect Pie
Considered the "most traditional American dessert," pies are as much a part of American culture as hot dogs and baseball. According to the American Pie Council, the history of pies dates back to the early Romans. The first pie recipe was a goat cheese and honey pie. It wasn't until the early English settlers that pies made their way to America. Since then, this dessert is a staple of American holidays.
But baking pie can still be intimidating. If you're a pie novice or just want to improve your pie-making skills, here are a few tips to creating the perfect piece of pie.
KEEP INGREDIENTS COLD
A great pie crust starts with cold ingredients, and even cold mixing bowls and utensils. Butter, shortening, dough, and even flour should be chilled before making your pie, which can ensure a flaky crust.
USE FRESH INGREDIENTS
Why does apple pie taste best in the late summer and early fall? It sounds obvious, but using fruit that's in season rather than canned or pre-processed will make a huge difference in the taste and overall quality of your pie.
DON'T OVERWORK THE DOUGH
Your dough can make or break the pie. Be sure not to overhandle the dough, which can cause it to toughen and lessen your chances for a light, flaky crust. Bonus Tip: The kitchn recommends adding 1 teaspoon of apple cider vinegar when making your dough to prevent gluten from forming.
BAKE ON THE LOWEST OVEN RACK
There's nothing worse than a soggy crust on the bottom of your pie. By baking in the lower part of the oven, it well help ensure a finished bottom crust.
LET IT COOL
The aroma of a freshly baked pie is unmatched, but use a bit of willpower to avoid diving right in. Fruit and custard pies should cool for several hours before serving, so the filling has time to set.
Everything you need to bake pies in your home or commercial kitchen.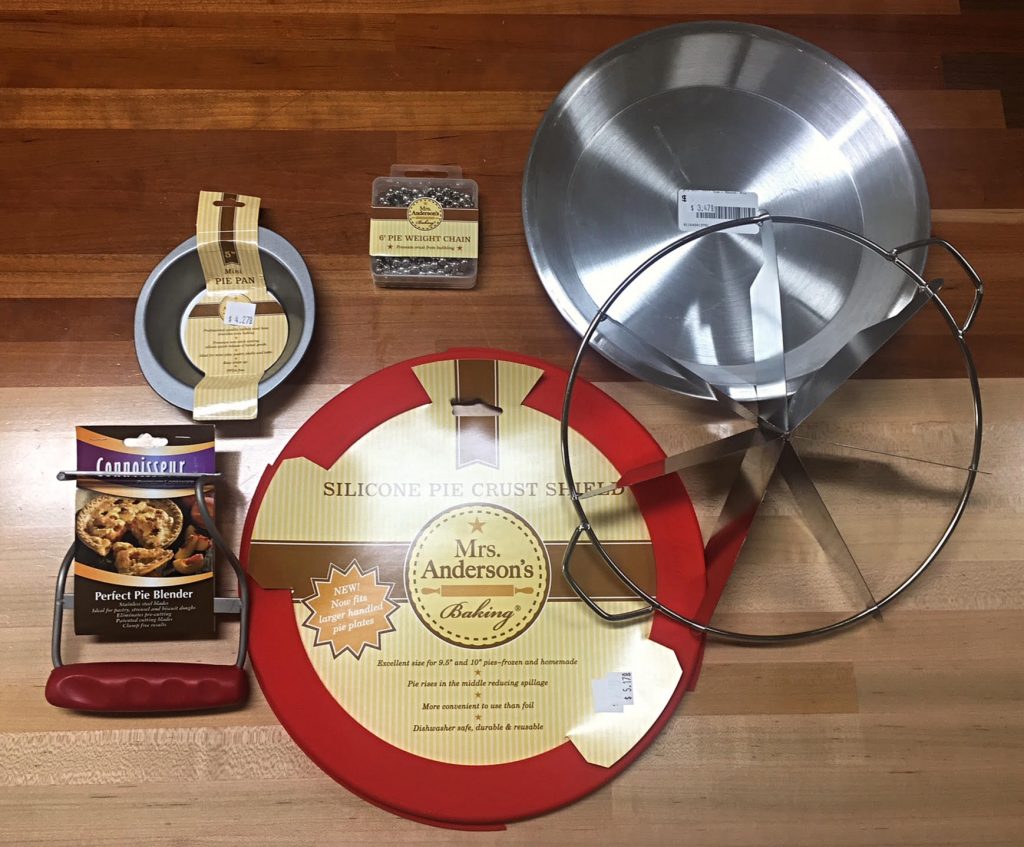 When it comes to baking pies, you need three things – the crust, the filling, and the equipment. No matter if you're baking a pie at home for the family or running a restaurant known for its delectable dessert menu, the same pie baking tools apply. Here are some of the most popular items we recommend:
Mrs. Anderson's Silicone Pie Crust Shield – prevents your pie crust from over-browning or burning.
Connoisseur Perfect Pie Blender – blend ingredients effortlessly.
Mrs. Anderson's Pie Weight Chain – pre-baking a crust, or "blind baking," with weights ensures the crust will hold its shape.
Winco Pie Cutter and Pie Pan – serve uniform pie slices every time.
Mrs. Anderson's Mini Pie Pan – perfect for mini sweet or savory pies.
All of these essential pie baking tools can be found right in our showroom, perfect for all bakers, residential or professional. Get 10% off your visit when you use the coupon below.