Everything You Need to Stock Your Home Bar
The craft cocktail movement has inspired many to become amateur bartenders, going beyond the simple gin and tonic and creating elaborate, carefully concocted drinks. Nowadays, you're just as likely to have a home bar in your house as you would a home office. If you're looking to entertain or just want to replicate Don Draper's corner office, be sure to stock your home bar with these essentials.
ALCOHOL
The alcohol you stock in your home bar will impact the rest of the tools and supplies you need. First things first, whether it's liquor, wine, or beer, fill your bar with what YOU like to drink. If you don't like scotch, don't go out and buy an expensive bottle only to have it collect dust. A variation of vodka, gin, whiskey, rum, and tequila should appease most guests. Just not at the same time!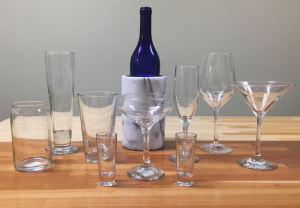 GLASSWARE
While cocktail glasses come in a number of shapes and sizes, there are two must-haves for any home bar. Rocks, or old-fashioned glasses along with highball glasses are perfectly suited for nearly every type of cocktail. If margaritas or martinis are more your thing, you'll want to get stem glasses better suited for these kinds of cocktails. Don't forget pint glasses and wine glasses for the beer and wine aficionados.
MIXERS
Unless everyone you're serving from your home bar drinks whiskey neat, you want to have a few options of mixers to enhance your home cocktail menu. Tonic water or club soda is a good start, along with cola or ginger ale, and a juice like orange or cranberry. While not necessarily a mixer, any true mixologist, home or professional, should have their bar stocked with bitters to add some extra flavor.
GARNISHES
This all depends on your cocktail selection, but in many cases, much of the popular garnishes can already be found in your kitchen – lemons, limes, oranges, cherries, olives, sugar, and salt.
BARTENDING TOOLS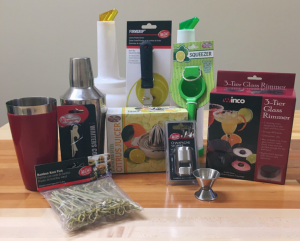 For new home bars looking for a few of the essential bartending tools, here are a few suggestions:
Jigger
Paring or Chef's Knife and cutting board
Shakers
Juice squeezer
Bar spoon
Strainer
Corkscrew and bottle opener
Now that you know about the tools needed to stock your home bar, you need to know where to find them.
Did you know? A Restaurant Supply Store is the perfect place to stock up on bar and cocktail supplies. Read the Home Chef's Guide to Shopping in a Restaurant Supply Store and discover how to shop like a bartender in the Washington, D.C. area, without paying high prices.